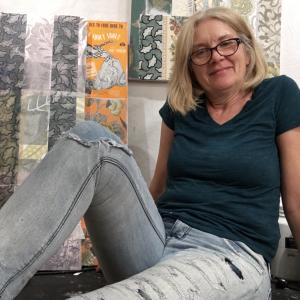 Marjolyn Vanderhart
Artist member since 2018
Pro
Toronto, Ontario
Inspire your Life with images from the Past!
For many of us, our identity is tied to memories from our childhood. There are moments when we see an image, and we are taken to another time and place. One that seemed simpler. My goal is to find these triggers of memory. However, I also try to find a way to give us a deeper sense of who we are today by using these images from the past. By doing this, there is a bridge between the vintage style and a modern perspective. What is old becomes new. A contemporary vision of our reality.
Each image creates a cluster of thoughts, a memory or idea that takes us into another place. This place references the past, as though to take us out of the uncertain/unknown present and into romantic glory days that creates a nostalgic twinge. Yet this nostalgia is not the place from which we relate to my imagery. I try to make you think how my work relates to your world today.
Stories develop by using found photos, vintage advertising, stills from classic films, music scores, and snippets of poetry. Narratives evolve as moments of images are placed together. As the images collage, stories present themselves and memory becomes a binding force. Yet each image is interpreted in the context of Today.
For the past thirty years I have traveled throughout the US and shown my work at various juried artfairs and galleries. Educated at the New York Studio Program at Parsons School of Art in NYC and Ringling School of Art and Design in Sarasota, Florida. I also have a degree in Mass Communications in Carleton University in Ottawa Canada. This initial degree taught me to look at the meaning of images and how they effect our world. Using this knowledge, this body of work developed to find ways to use Pop Cultural references and create stories that relate to our present day experience.
I currently live in Toronto, Ontario, Canada with my husband and two kids. My studio is downtown Toronto, however, I travel a great deal throughout the United States and bring my Art to different Art Fairs throughout the US.
---
What places do you hang out in Toronto?
I hang out on the lake when I'm not painting. I am a sailor, a racer and a lover of looking at the city from my Lake Ontario. Yep- I consider it to be my lake.
Favourite musical artist / band right now
Lately I have been watching classic films. The best, in my opinion, is Breakfast At Tiffany's with Audrey Hepburn. An inspiration for my art and my life!
When I'm not making art, I'm (a) ...
When I'm not making art I travel to sell my art. I have participated in over 400 art fairs throughout the United States. My art has taken me to California, New York, Texas and many other places where people buy and enjoy art.
Why is it important for people to have art in their home or life?
For many of us, life can be demanding and a bit depressing. If you have empty walls in your home, then you are missing the opportunity to inspire and create an escape from the daily grind. Art in your home keeps you going and reminds you that life is bigger than the everyday demands.
How long have you been creating art?
I have been making, and selling my art for about two decades. I have been educated in NYC at Parson School of Art and in Florida at Ringling School of Art. Most importantly I was educated first at Carleton University in Canada where I learned how Art and media can effect us. It is this basis upon which all my work is created.
Favourite medium
I have been a painter for most of my career. However, in the last few years, I started to use found materials such as wallpaper and other found nostalgic images to incorporate into my paintings. The reason? To create a sense of memory- to trigger your view of my work into another time and place. The depth of the stories are enhanced with these images and makes my work so much more relevant to todays ephemeral world of disposable images.
Upcoming Exhibitions
2020-09-05
2020-10-05
2020-10-11
What do you mean, "try"?
Try-before-you-buy with a 3 month rental. 100% of your rental payments go towards the purchase (interest free). Message the artist directly, and start the conversation.
---
Art made (truly) affordable
We make it easy for you to try art with smart payment plans and try-before-you-buy models.
See How It Works
---
You're covered.
Artwork protection is included on all art rentals up to $5K. Our Customer Care team is always here to help.
Contact Us
---
Unlock Trade Access
For industries including interior design, film/TV production, & real estate staging: rent original pieces that fit with your project vision, budget and timeline.
Apply for Trade Access
---
1% from every transaction goes towards a Canadian arts nonprofit.